We're fairly keen about marrows, baby marrows (i.e. courgettes or zucchini) and many varieties of squash.
They are usually fairly easy to get started from their big fat seeds in small pots in the conservatory or greenhouse - or even on windowsills in the house.
But some years we hit a problem - and this is one of those years. We planted 9 Green Bush Trailing marrow seeds from a new packet and only one germinated. The survivor is growing into a nice sturdy plant, but 1 from 9 isn't a good ratio. After 3 weeks I checked and the seeds hadn't rotted or been eaten, but were just not doing anything.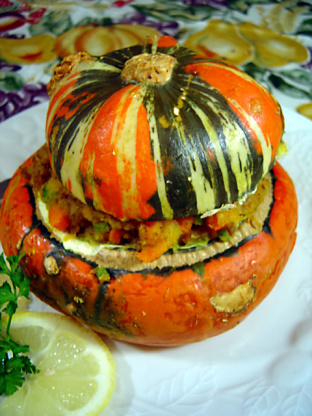 In desperation I bought some seedlings at a local
Plant Sale
. These are a different variety Nero Di Milano which we haven't grown before and I believe are used mostly as courgettes rather than leaving to grow to marrows. It's good to try new things. Also picked up a Turks Turban squash seedling, sounds very exotic. This is a stuffed Turks Turban -
recipe from Sue Lau on Food.com
. Look forward to trying that later in the summer!
I've since planted 5 seeds from last year's packet of Green Bush and 3 have come up pretty quickly.
I keep seeds from our harvest and sometimes from bought Butternut Squash. Unfortunately I'm not much good at labelling them. So the squash seeds I planted could be anything. Previously this random process has produced a variety of stripy green or yellow squashes of different sizes and shapes. They are all good in soup or roasted with some fennel seeds or sage!
Small courgettes and marrows in pots in the greenhouse
Butternut Squash seedlings - plus some weeds. I use our own compost which is good but not weed-seed-free.